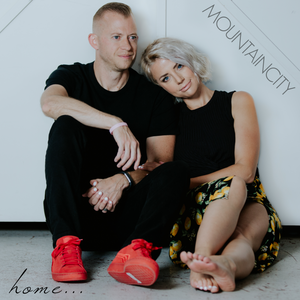 This song is one of our favorites because it is a part of our own personal love story. Dave and I know the power of story and when you put it to song it becomes even more potent.
Dave and I first met in September of 2002. We had both just come out of unhealthy relationships with other people and had decided that dating at the time was not in our best interest. We really liked each other right away but we needed to be friends first.
In February of 2003 we both were at a youth camp in the mountains where Dave was playing some music. I came to the camp to take part in the festivities of the evening.  When it was time for me to leave that night, we found ourselves standing out on the side of a mountain, soft snow falling all around us under dim starlight as we said our goodbyes.
This night was different though.
It was as if we could communicate without words what we were feeling. We were falling absolutely head over heels in love with each other. We didn't say it but we both knew it. I didn't want to go and leave him because I had a realization in that moment that I found my home in him. He was my safe place, my other half and the love of my life.
As I headed down the mountain everything within me wanted to turn my car around and jump into his arms and tell him that he was the one for me.
In an interesting turn of events, I did have to turn my car around that night because the snow storm had blown in and my little red Kia Rio would not have made it safely down that hill. I was (secretly) so happy about my predicament and even though I didn't get to jump into his arms that night and tell him all of my dreams, I slept soundly knowing that he was only a cabin away. 
It would be another month before we were able to commit to each other and verbally communicate the way we loved each other and only seven more months before we made a covenant before God, friends, and family to be "Home" to each other for the rest of our lives.
I hope that you find yourself enjoying this part of our story… and who knows, you might even find yourself somewhere in it. Have you had a moment in time that you just knew you had found your person, your "Home"?
-Tara
Follow us and listen in other places:
Spotify
Apple Music 
Amazon
Lyrics:

Verse 1:
The smell of pine in the frosty air,
We linger on so we don't have to say goodnight.
The sky above, the earth below,
We lock eyes on this big hill of snow

Chorus 1:
And I don't want to go...
I don't want to go alone.
'Cause something tells me I'm Home.
I'm Home with you.

Verse 2:
If you'd reach out to take my hand,
My heart would skip and I'd changed all of my plans.
In my head, you'd steal a kiss, 
Breathless, wondering if you'd miss me too.

Chorus 2:
And I don't want to go...
I don't want to go alone.
'Cause something tells me I'm Home.
I'm Home with you.

Bridge:
Driving down the hill, I'm turning around.
There's no place like Home, 
Why would I go down without you?
Oh, without you.
I'm speeding back 'cause I'm falling in love.
Run into your arms,
I would be lost without you.
Oh, without you.  

Chorus 3:
And I don't want to go...
I don't want to go alone.
'Cause something tells me I'm Home.
I'm Home with you. 

CREDITS:
released April 3, 2020 
Mastered by: Dave Wilton
Produced and Mixed by: Dave Wilton
Engineered by: Dave Wilton
Lead Vocals: Tara Powers
BGV's: Tara Powers, Dave Powers
Drums: Tyler Cuchiara
Bass: Dave Wilton
Guitars: Dave Powers 
Additional Guitar: Dave Wilton
Keyboards, sound design:  Dave Wilton 
Percussion:  Dave Wilton
Lyrics and Composition: Dave and Tara Powers 
Arranged: Dave and Tara Powers 
Publishing: Ours Is My Favorite Music 
Photography: Trisha LaCoste //  https://www.trishalacoste.com/
Artwork: Dave Powers