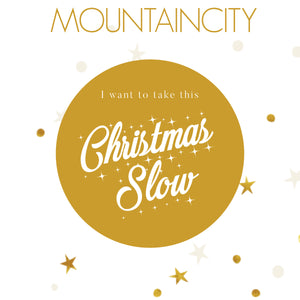 At the end of the Christmas season in 2020, I took some time to reflect about how I experienced the holiday season:

- Was I distant?
- Or frantic?
- Full of anxiety or worry?
- Was I at peace?
- Do I need healing?
- Did I spend time in the Presence of God with intentionality and gratitude?

As I considered these questions and others, words started pouring onto the page... I want to take Christmas slow.
I want to take time to "feel" what's going on inside of my heart (not very natural for me).
I want to take time to rest and be healed (I truly need both)!
I want to take time to breathe the winter air surrounding me (for the most part, I can't stand the cold and it's not my favorite idea to inhale cold air).

I started thinking about how much Jesus means to me and how He really has changed my life dramatically and holistically. I'm so thankful.

And sometimes the frantic, high-paced nature of the Western culture Holiday season has this numbing effect. It seems to dull the heart and beckon us to consume. In this way, it's relatively easy to find yourself exhausted, wanning, straying, and medicating.

Then I noticed a sense of longing inside my soul. It was an ache deep down, drawing me in, inviting me to let go of all the craziness that is clawing for my attention. I noticed that I was deeply desiring a peace that could pass my understanding. Something holy. Something pure. Something otherworldly and powerfully wise.

I started imagining what it would be like for my heart to be on fire for God again, with one singular desire in mind... a genuine and encompassing friendship with Jesus... the One I love.

May it be the case for all of us this year.
May we slow down to receive healing, to rest, to see and feel again.
May we listen to the longing inside, the ache that God alone can fill.
And may our hearts burn brightly again with love for Jesus and the people around us.

Love, 

Dave (for Tara)
_______________________________________________________________

Lyrics:
Chorus 1:
I wanna take this Christmas slow
Take the time to feel and time to breathe
The winter air surrounding me
I wanna take this Christmas slow

Verse 1:
I think about the meaning of the day
And how He's changed my life in every possible way
It's easy to get caught up in everything but wonder.
The pace of the season, the frantic feeling,
That keeps us from believing.

Chorus 2:             
I wanna take this Christmas slow
Take the time to feel and time to breathe
The winter air surrounding me
I wanna take this Christmas slow

Verse 2:
I find my heart longing for You again
I feel an ache deep down that draws me in
I need a peace that goes beyond all reason
To stabilize my hand, and calm me down
Inviting me to let go

Chorus 3:
I wanna take this Christmas slow
Take the time to heal and time to see
The winter air surrounding me
I'm gonna take this Christmas slow

Bridge:
Oh, my heart's on fire
Oh, with one desire
Oh, to be with the One I love
The One I love

Chorus 4:
I wanna take this Christmas slow
Take the time to heal and time to see
The winter air surrounding me
I'm gonna take this Christmas slow
I'm gonna take, I'm gonna take
I'm gonna take this Christmas slow

_______________________________________________________________
CREDITS
Released November 26, 2021
Guitars, Piano, Vocals, and BVG's: Dave Powers
BGV's: Tara Powers
Guitars, Bass Guitar, Percussion, Sound Design: Dave Wilton
Cello: Kari Clifton
Producers: Dave and Tara Powers
Lyrics and Composition: Dave and Tara Powers
Arrangement: Dave and Tara Powers
Mixed and Mastered by: Dave Wilton
Publishing: Ours Is My Favorite Music
Artwork: Dave Powers