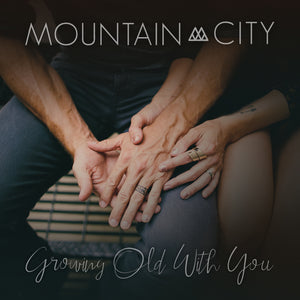 On one of our songwriting days, Tara was contemplating the idea of how we are all growing old with our loved ones. As she sat there crafting lyrics, she realized that after 13 years of marriage with me, she actually IS growing old with me. She started reminiscing about how fast time is flying by... it seems like yesterday that we just promised our love and lives to each other... Wrinkles are showing up around our eyes because of all the laughter and tears. Our kids are growing up like lightning weeds. We've seen some of our dreams come true and kissed other dreams goodbye...
Watch this video for more of the story! 
www.facebook.com/mountaincitymusic/videos/1184123571702979/ 
Lyrics
Verse 1:
We said that we would choose each other all the way.
Didn't we just make that promise yesterday?
Now we're down the road a little, but there's still some road we've got.
We may only have a minute but some days we have a lot.
Chorus 1:
I am growing old with you. There's wrinkles round' my eyes
From all the laughter and the tears that you and I have cried.
Verse 2: 
They say, you start looking like each other when you age.
Didn't we just start this journey? Turn the page...
Now we have a family. The years they go by fast
It seems like they were only babies, but now that time has passed.
Chorus 2: 
I am growing old with you. I can see it in my smile.
From all the dreams we've seen come true and the ones we've kissed goodbye, and the ones we've kissed goodbye,
and the dreams we've kissed... goodbye
Credits
Released January 1, 2017
Tara Powers: Vocals
Dave Powers: Guitars, BGV's
Charles Ciepiel: Upright Piano
Nathan Phillips: Bass Guitar
Jon Powers: Drums
Dave Wilton: Auxiliary Percussion
Written by: Dave and Tara Powers 
Music: Dave and Tara Powers 
Lyrics: Dave and Tara Powers 
Arranged by: Dave and Tara Powers 
Produced by: Dave and Tara Powers 
Mixed and Mastered by: Dave Wilton at Coalesce Audio Recording Studio: davewilton.com/recordingstudio/ 
Published by: Ours Is My Favorite Music 
Photography: Alicia Lewin: www.alicialewinphotography.com 
Artwork: Charles Ciepiel, Dave & Tara Powers 
**Special thanks to our MOUNTAINCITY Partners!! It's with your help, support, and partnership that we could release this song! THANK YOU!!
____________________________________________________
Dave is also super thankful for his sponsors!
Check them out and support them! :)

Grosh Guitars: www.groshguitars.com/artists/artist-list 
McPherson Guitars: www.mcphersonguitars.com/artists/dave-powers 
Deering Banjos: www.deeringbanjos.com 
LR Baggs: www.lrbaggs.com 
Strymon: www.strymon.net 
MONO: www.monocreators.com 
Temple Audio: www.templeaudio.com 
Franklin Strap: www.franklinstrap.com 
Shubb Capo: www.shubb.com/artists 
DG Custom Cables: www.dgcustomcables.com 
64 Audio: www.64audio.com 
Red Bear Trading Co.: www.redbeartrading.com/artists.html