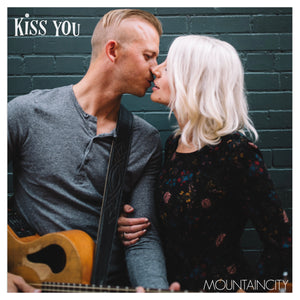 Do you remember your first kiss?
I definitely remember mine with Dave Powers. It was a Spring day in lovely Colorado and we were falling in love. We were at my parents home and we kissed in the living room late one evening. In that moment, my heart was beating uncontrollably and it felt so perfect like all of his kisses were meant just for me. We have been kissing now for NINETEEN years. 

We wrote a fun, upbeat, nod to the 1950's era of Rock and Roll/R&B pop sounds and really love how it turned out. It's a catchy tune and our hope is that you go back and relive your first kiss with the one you love. This one might stick in your head for awhile so be prepared. 

As always, thank you for helping us, supporting us, loving us and partnering with us to bring music to people that helps to shine light on authentic love. You are world changers to us and to so many. 
Much love,
Dave and Tara
_______________________________________________________________

Lyrics:
Verse 1:
You kissed me in the Spring
When flowers bloomed and every little thing was new  
I didn't know just what to do
I was falling for you

Verse 2:
You started on my cheek
Just a little kiss and then I couldn't speak
I didn't know if this was love 
I was falling for you

Chorus:
I'm gonna make up for all the days that I was supposed to kiss you
I'm gonna make up for all the nights I didn't know I missed you
I'm gonna kiss you

Verse 3:
You kissed me soft and slow
My heart sped up and I forget just where I was
I didn't know just what to do
I was falling for you
_______________________________________________________________
CREDITS
Released May 5, 2022
Guitars: Dave Powers
Vocals and BGV's: Tara Powers
Guitars, Drums, Keys, Percussion, Bass Guitar, Sound Design: Sam Westhoff
Producer:
Sam Westhoff and Dave Powers
Lyrics and Composition: Dave and Tara Powers
Arrangement: Dave and Tara Powers
Mixing Engineer:
Sam Westhoff
Mastered by:
Sam Westhoff
Publishing: Ours Is My Favorite Music
Artwork: Dave Powers
Photography: Alicia Lewin