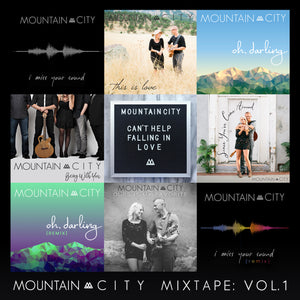 **FREE SHIPPING in the United States!!
We had so much fun putting this album together! It's fairly diverse in terms of musical style, which is the reason why we called it "Mixtape: Vol. 1". The songs explore modern electro-pop, country, folk, neo-mellow, indiecoustic, and acoustic singer-songwriter vibes! 
Track listing:
1. This is Love
2. Ours Is My Favorite
3. Oh Darling
4. Being With You
5. Since You've Come Around
6. I Miss Your Sound
7. Can't Help Falling In Love (Elvis Cover)
8. Oh Darling (REMIX)
9. I Miss Your Sound (REMIX)
If you enjoy tactile music, this CD is for you! ;)
Shipping times will differ depending on date ordered, country of residence, & customs. We process orders daily! Items may arrive separately.
*Orders with multiple items may arrive separately.
Please don't hesitate to contact us for any reason: shop@mountaincitymusic.com