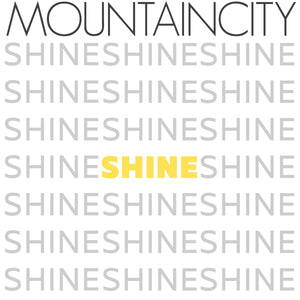 We got to co-write with our friend, Troy Welstad in Portland in 2019. It was a fun song to write and it is about someone dreaming about an individual that has caught their attention and their dreams lead them to an evening of dancing underneath the moon and the stars together. It is daydreaming and imagination at its best! I have to tell you that it is a scary thing to collaborate with other artists but it is so good to get our of your comfort zone and try new things.
Speaking of getting out of comfort zones. We are learning how to SHINE a light on love in this season amidst the racial tension and riots. We have been reading books, listening to activists and leaders, teaching our children and learning to love better. It is scary to not have words or know how to help but if you seek to be a light and to honor and love there are ways you can shine.
We would love to hear how you are shining light during dark times and also what you think about our new song!
-Tara
Follow us and listen in other places:
Lyrics:
Verse 1:
Saw you walking down the street on Sunday, down the boulevard
You got me thinking that maybe someday 
I'll get to be where you are
Now I'm dreaming of taking drives and late nights, cruisin' in your car
Imagine us lying out on the green grass staring up at the stars
Pre-Chorus:
Can we make this real
Where we're face to face
Will you take my hand
And chase my clouds away
Chorus 1:
Ooo ooo, Dancing in the moonlight
Ooo ooo, Singing in the starlight
Ooo, ooo, Dancing in the moonlight
You and me shine, you and me shine tonight
Verse 2:
I'm seeing visions of our future together
Reflections in the mirror
Never knew I could be so happy
Now you've got me seeing clear 
Don't want to waste another moment without you. I need you by my side.
Since the days my eyes fell upon you, I've been going wild  
Chorus 2:
Ooo ooo, Dancing in the moonlight
Ooo ooo, Singing in the starlight
Ooo, ooo, Dancing in the moonlight
You and me shine, you and me shine tonight
Pre-Chorus:
Can we make this real
Where we're face to face
Will you take my hand
And chase my clouds away
Chorus 3:
Ooo ooo, Dancing in the moonlight
Ooo ooo, Singing in the starlight
Ooo, ooo, Dancing in the moonlight
You and me shine, you and me shine tonight
CREDITS:
Released June 26, 2020 
Mastered by: Richard Dodd Produced and
Mixed by: Troy Welstad
Mixing Engineer: Aidan Thillmann
Lead Vocals & BGV's: Tara Powers
Drum Programming / Percussion: Troy Welstad
Bass: Eric Macias
Guitars: Dave Powers, Jeff Jansen, Matt Salinas
Synth / Keys: Luc DeLorenzo, Troy Welstad 
Lyrics: Tara Powers, Dave Powers, Troy Welstad
Arranged: Tara Powers, Dave Powers, Troy Welstad
Publishing: Ours Is My Favorite Music and AWESOME MUSIC FACTORY
Artwork: Dave Powers 
**Special thanks to our MOUNTAINCITY Partners!! It's with your help, support, and partnership that we could release this song! THANK YOU!!
____________________________________________________
Dave is also super thankful for his sponsors!
Check them out and support them! :)

Grosh Guitars: www.groshguitars.com/artists/artist-list 
McPherson Guitars: www.mcphersonguitars.com/artists/dave-powers 
Deering Banjos: www.deeringbanjos.com 
LR Baggs: www.lrbaggs.com 
Strymon: www.strymon.net 
MONO: www.monocreators.com 
Temple Audio: www.templeaudio.com 
Franklin Strap: www.franklinstrap.com 
Shubb Capo: www.shubb.com/artists 
DG Custom Cables: www.dgcustomcables.com 
64 Audio: www.64audio.com 
Red Bear Trading Co.: www.redbeartrading.com/artists.html